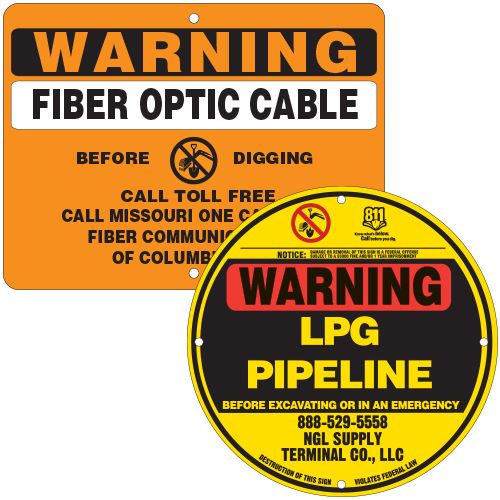 Custom Signs
ACP International is capable of producing multi-color signs on a variety of substrates that can be used for route marking, utility identification, and line ownership. OSHA and safety signs are also available with quick lead times.
Custom signs are available in:
Polyethylene

Pre-painted aluminum

Lexan
And many others, just ask us!
Use signs for:
Route marking
Facility identification
Safety and OSHA Compliance
We also manufacture signs out of reflective aluminum and polystyrene. Have you heard about our consolidated all-in-one sign or our large format signs? We can do those too! We can make signs in any size or shape including the standard sizes listed below.
| Part No. | Description |
| --- | --- |
| SGN412 | 4" x 12" Sign |
| SGN912 | 9" x 12" Sign |
| SGN1014 | 10" x 14" Sign |
| SGN1218 | 12" x 18" Sign |
| SGN1420 | 14" x 20" Sign |
| API1175 | 11.75" Round API Sign |