History of ACP International
ACP began in April of 1986 in a 1972 model single-wide trailer house. This was before trailers improved to mobile homes, and before mobile homes improved to manufactured housing. This was a trailer house. We bought it used. The dining room of the trailer house was soon to become the world headquarters of ACP International. Here's a photo. If you think the outside looks good, you should have seen the inside.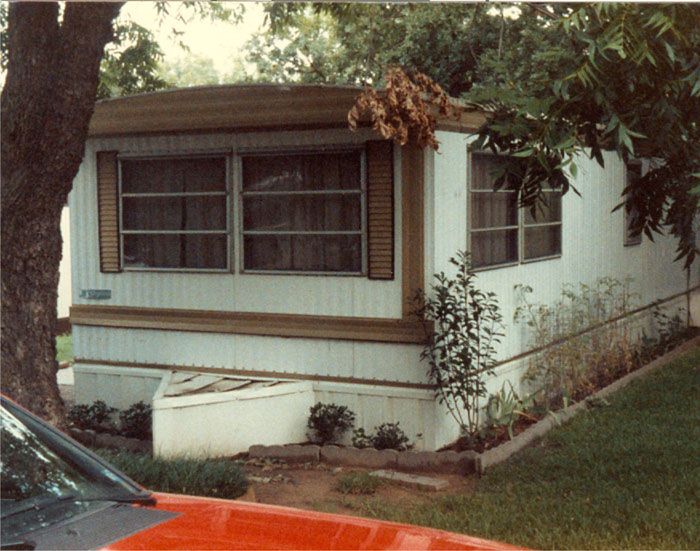 It would be stating the obvious to say that we began small. We worked side by side, mainly because there wasn't room to work back to back. We manufactured two products, but we were able to do that successfully. And because our costs were so low, we were able to do better than break-even our first year (barely…). And year after year, we invested our company profits back into the business, adding product lines and equipment as months and years went by.
In 1988, we leased our first manufacturing plant. Plus, we did something that really put us on the path for greater success. We hired our first employees. Judy Schuchman and Ginger Biagiotti were two of the first. While Judy and Ginger have retired from ACP, we have been very fortunate to have many long-tenured employees who are still with us. When you are fortunate to have great quality people, EVERYTHING is easier.
Next time you talk with someone at ACP, ask them how long they have been with the company. This is a real point of pride for us. In today's business world, where re-orgs and layoffs seem to happen every day, we're proud to stand against that trend.
In 1992, we acquired our first building. We added a neighboring building in 1996, and again in 2006. In 2007, we moved to our present 72,000 square foot facility. All along, we've added more versatile equipment and processes, which have improved our capabilities and our capacity.

Over time, we've also acquired businesses similar to our own. In 2002, we acquired VIP, a tag and label manufacturer in Houston. In 2003, parts of Porter Graphics of New Braunfels. In 2006, we developed Concrete Graphics, a revolutionary pavement marking product.
In 2009, we were fortunate to acquire SA-SO, a provider of signs and safety products to schools and small towns all across America. In 2014, we bought ECOP Products, a maker of unique cable marking products. In 2015, we purchased the security sign division of Englander company. In 2020, we acquired Stonehouse Signs, a company very similar to our own.
We are very excited about our most recent acquisition. At the beginning of 2022, we acquired Capital StreetScapes of Austin, Texas. Capital manufactures decorative signposts and frame systems that offer a classic look for upscale developments, historical districts, and campuses. Take a look at the photos. A Capital upgrade makes everything look better!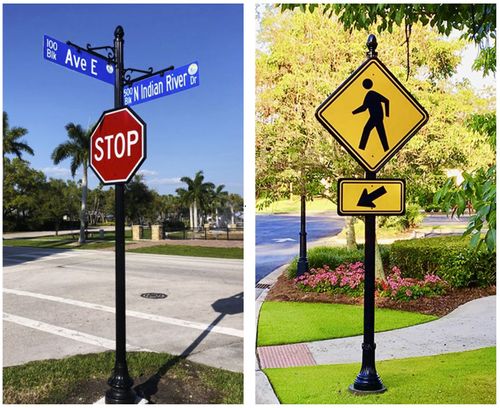 Being able to provide Capital products is a great opportunity, but more importantly, we are able to continue the business legacy of good people. Ray Styles, the founder of Capital, was looking toward retirement and contacted us. In just a few short days, we had an agreement that continued the Capital legacy and transitioned the business smoothly.
Business works so much better when every party works for mutual benefit rather than just their own, and that clearly was the case with Ray Styles and Capital. Ray worked hard to teach us details about the business that helped us and helped our customers through the ownership change.
All of this has been possible because of our company's continuing relationship with you, our customer. We will never forget that providing you the quality and service you deserve fuels everything we do. We truly enjoy working with you, and we appreciate your patronage.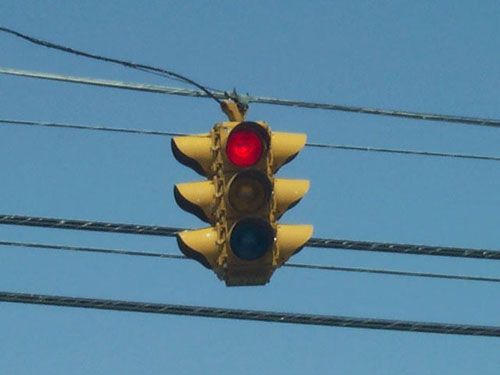 A Note about History
The SA-SO acquisition was so exciting to us because of SA-SO's rich history, which began in 1948. For decades, SA-SO sold via mail-order to towns all across America. Traffic and Street Signs were a big part of their business, but SA-SO sold some things that might surprise you. Dog Catcher nets. Ambulance Stretchers. Pickup Truck based Fire Trucks. Guns. Kerosene based road flares that looked like Wylie Coyote bombs (remember those?). Here's a photo of a 1960's vintage SA-SO Traffic Light. Doesn't look that different, does it?
We thought we could never beat a legacy since 1948, but WOW, when Stonehouse Signs joined our family, it redefined legacy. Stonehouse has continually been in business since 1863! Take a look at Stonehouse history below. We're holding out hopes for buying a business that started in the 1700's, but we realize it is a long-shot. However, some of the Capital StreetScapes products have an antique cast iron look that could be from the 1700's , so we can at least pretend.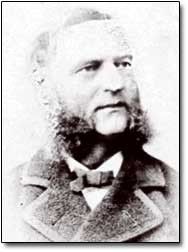 Stonehouse Signs History
Since 1863 and through four generations of family, Stonehouse Signs has been the cornerstone of the standards for visual communications. A founding member of the National Safety Council and a pioneer for many of the standards that are still in use today, Stonehouse Signs has a rich and amazing history.
1863-1st Generation Family: William Stonehouse opened a sign shop in Chicago and taught his son, James Wesley (known throughout his life as J.W.), the art of painting gold leaf lettering on storefront windows.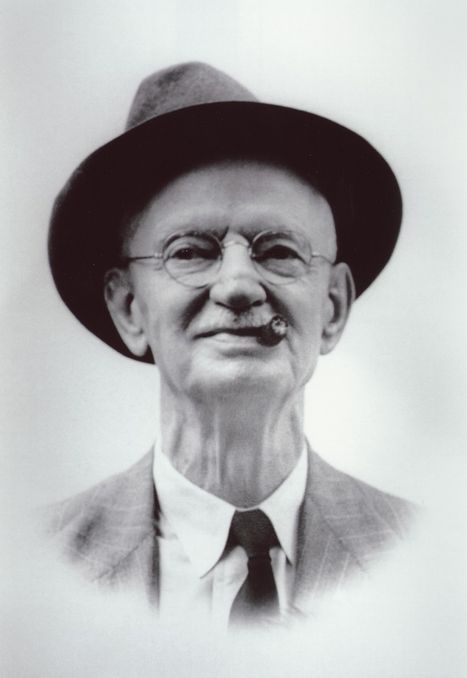 What other things were happening in 1863?
Abraham Lincoln signs the Emancipation Proclamation during the second year of the American Civil War.
President Lincoln proclaims a national Thanksgiving (United States) day to be celebrated the final Thursday in November.
Arizona and Idaho become United States territories.
The Battle of Gettysburg marks the height of the American Civil War.
1904-2nd Generation Family: J.W. moved west with the gold mining boom and set up shop in Douglas, Arizona, proudly advertising, "J.W. Stonehouse, Painter of Good Signs, Pictures and Framing."
1910: J.W. moved to the Victor-Cripple Creek region of Colorado. It was here that the accident prevention sign business was born. J.W. saw a need for safety in the mining industry. He created standard bell signal signs to better communicate in the mines, therefore reducing accidents and injuries. He lobbied for the codes to become standard in all mines in Colorado and was ready to sell his printed signs when the mining bureau enacted the standard.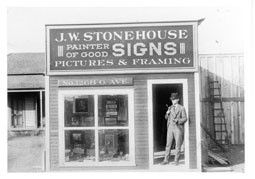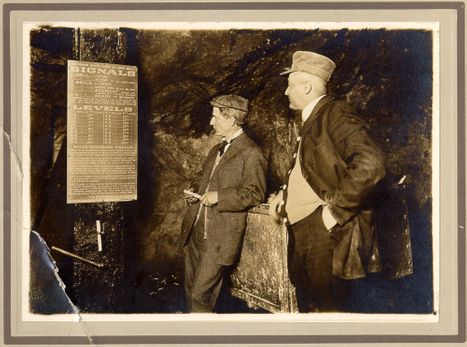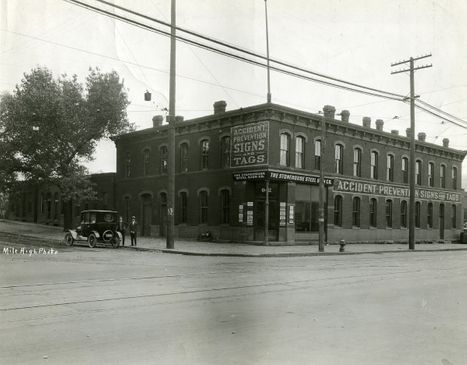 J.W.'s interest in worker safety and his Colorado State Code of Mine Bell Signals, arguably the first standardized industrial safety sign, resulted in the creation of the accident prevention sign industry. As the concept of "workplace safety" was beginning to take hold in America, the contributions of J.W. Stonehouse and Stonehouse Signs were beginning to be felt in Colorado and across the nation.
1912: Stonehouse Signs became 1 of 5 founding members of what is now known as the National Safety Council.
1913: J.W. moved to Denver. He never lost his concern for safety and standardization. His efforts resulted in the creation of the "Danger", "Caution", "Notice", and "Think" panels that are in widespread use today. In 1941, his designs (shown below) became part of the American Standards and Specifications for Industrial Accident Prevention Signs: Z35.1 - 1941. An updated version of the standard, ANSI Z35.1 – 1968, was incorporated by reference into the Occupational Safety and Health Act (OSHA) of 1970.

1931: J.W. turned over control of the company to his wife Hutoka Andrus Stonehouse, due to a long and serious illness.
1958: J.W. Stonehouse died at the age of 90.
1963-3rd Generation Family: After 25 years of service, Gordon Ira Stone, the brother of Hutoka Stonehouse, became company President.
1970-4th Generation Family: Gordon Ira Stone died and his son Gordon Lee Stone became company president and served in that capacity for 24 years.
1972: Stonehouse Signs developed a computer system for automating sign design and stencil cutting. Stonehouse Signs became the first sign manufacturer to use computer aided design, a full decade before their proliferation in the industry.
1977: Gordon Lee Stone's son Jeffry Gordon Stone came to work for the company. Over the years, Jeff has worked in every position at Stonehouse.
1984: Stonehouse Signs acquired Rustproof Sign and Metal Company. It was this acquisition that helped Stonehouse enter into the utility sign industry.
1987: Gordon Lee Stone's daughter Becky Stone-Roche began working for the company in a sales and marketing position.
1994-5th Generation Family: Jeffry Gordon Stone, the son of Gordon Lee Stone, became company President.
2020: Jeff and Becky, after more than 40 years of leadership, sold the company to ACP International. Though no longer in family ownership, ACP treasures the rich legacy and values of Stonehouse Signs.