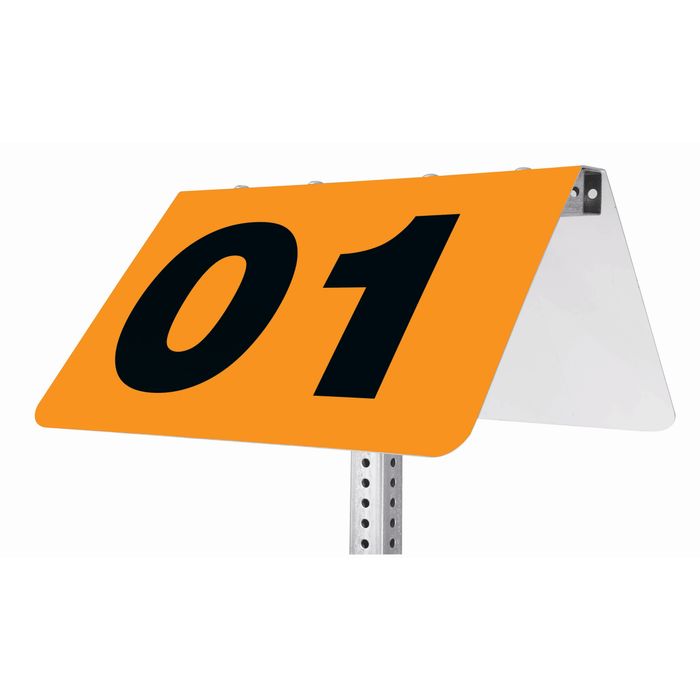 Bracketless Aerial Marker
ACP manufactures Bracketless Aerial Markers for the easy identification of pipeline and cable routes from the air. Increased visibility of disrupted locations means quicker response times after outages. Save time and money with this all-in-one bracketless aerial marker. There is no need to add plates. Simply use a hammer and ratchet to attach the marker to the integrated square post. Aerial Markers are available in 2, 3, or 4 digit numbers in any color combination. Bracketless Aerial Markers are mounted on square, pre-punched posts.
The unique design of Bracketless Aerial Markers allows for quick assembly, easy installation, and lower costs. ACP's bracketless aerial markers:
do not require a bracket (All that's needed is a post, marker, and some hardware!)
have numbers pre-printed on the marker, so there's no individual plates to attach*
weigh less than 35 pounds (16 kilograms)
can be stacked, making them easy to ship and transport
are assembled on an easy-to-source, pre-punched square post
| Part No. | Description |
| --- | --- |
| BAM1624 | 24" wide marker with square post |
| BAM1636 | 36" wide marker with square post |
| BAM1648 | 48" wide marker with 2 square posts |
| AMP616* | 6" x 16" Aerial Marker Plate |
| AMP1216* | 12" x 16" Aerial Marker Plate |
* For Traditional Aerial Markers
*The marker is printed on reflective engineer grade material for low light conditions. Contact sales@acpinternational.com for more information. ACP's bracketless aerial marker is patent pending.