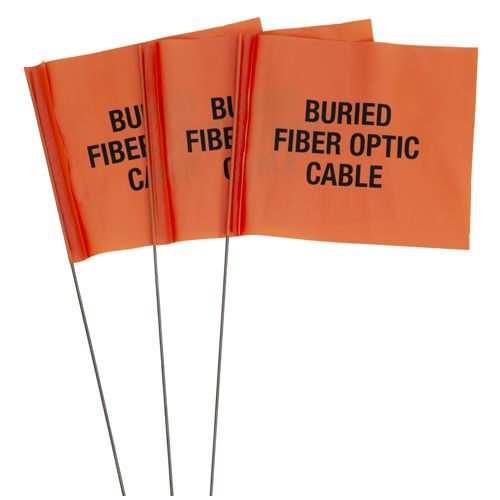 Marking Flags
Mark buried cables and lines to communicate to workers where it may be dangerous to dig. These color-coded vinyl flags are durable and can be printed with your company's information and branding.
Standard Flag Material: 4 mil vinyl
Standard colors: red, orange, yellow, green, blue, white
Preprinted, blank, or custom
Packaging: 1,000 flags per case
Choose from 18", 21", 24", 30" and 36" 15.5 gauge steel wire metal staff
Also available with plastic staffs
Ask us about our Flag Carrier Probe for easier and more efficient flag installation!
| Part No. | Description |
| --- | --- |
| FL18W* | 4" x 5" Flag with 18" Wire Staff |
| FL21W* | 4" x 5" Flag with 21" Wire Staff |
| FL24W* | 4" x 5" Flag with 24" Wire Staff |
| FL30W* | 4" x 5" Flag with 30" Wire Staff |
| FL36W* | 4" x 5" Flag with 36" Wire Staff |
| ACP30CP | Flag Carrier Probe |
* Indicate Color with Suffix:
Y - Yellow, O - Orange, R - Red, W - White, BL - Blue, G - Green